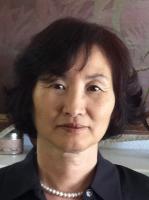 VP, Strategic Initiative Consultation
Ms. Sung-Hee Park has more than twenty years experience in business management. She has implemented comprehensive corporate accounting, budgeting, financial reporting, MIS systems and management programs.
Ms. Park has helped manage at the highest levels large companies such as Samsung, and successfully assisted start-ups to successfully link accounting and finance systems with general operations to improve efficiency and provide actionable intelligence for superior business operations and decision-making. She has provided total start-up business solution service consulting for countless firms in the high-tech and electronics sectors.
In her spare time, Ms. Park serves on various non-profit school boards, and is a member of the National Advisory Council for Democratic Peaceful Unification, Korea.
Since 2010, Ms. Park works with GenCom International on vetting Asia located projects, and providing interpretation and strategic analysis.
Ms. Park received her BA in Business Administration from Sung Kyun Kwan University in Seoul, South Korea.
Ms. Park makes her home with her family in the greater San Francisco Bay Area, and travels regularly to South Korea on business.