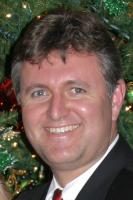 Dr. Henrik Mann - President, Founder and CEO
Trusted Advisor, Global Commodities, Mediation Services, Project Management & Leadership Consulting, Founder and Public Speaker
Dr. Mann works passionately to facilitate dreams that need capital formation. He is a gifted visionary, communicator and super networking leader who loves to help others succeed. He serves as a trusted advisor to several companies, and is respected both in his local community and abroad.
Most days he works consistently on negotiating and structuring large commodity deals, and has previously earned his CA Broker's license DRE #01859104 in order to actively solicit funding as an intermediary related to private equity for commercial real estate projects.
He graduated summa cum laude with his Doctorate of Education in Organization and Leadership (International focus) from the University of San Francisco in 2005, having researched the leadership patterns of Nobel Peace prize winning organizations working in South East Asia.
As a social entrepreneur, Dr. Mann has traveled and researched in 26 countries, seeking to understand the human condition related to work, entrepreneurship, poverty, religion and politics.
He is founder and served as CEO for 5 years with the Tri-Valley Consultants Forum (www.tvcfconsultants.org), a non-profit organization serving hundreds of consultants through monthly education and networking meetings.
He is also founder of the GenCom Witness Forum, a web 2.0 platform facilitating international development projects. The organization has over 180 members and has delivered over 15,000 lbs of donated food to an orphanage in SE Romania.
Dr. Mann's early career involved working as an ordained minister in startup churches as well as established Protestant ministries, growing congregations in every location. He has spoken with hope and compassion to thousands of people over the years, and helped inspire faith, healing, miracles, and millions of dollars in small donations.
Dr. Mann is a national business speaker for www.mvpseminars.com and serves clients seeking his expertise as a global consultant and master networker. Dr. Mann and his wife Charlotte have two children and make their home in the San Francisco Bay Area of California.